Profile

Free Account
Created on 2011-12-25 17:26:05 (#1265808), last updated 2011-12-27 (299 weeks ago)
11,695 comments received, 1,999 comments posted
91 Journal Entries, 118 Tags, 0 Memories, 134 Icons

About
| | |
| --- | --- |
| Name: | Road Kamelot |
| Birthdate: | Jul 15 |
| | |
| | |

Mini Bio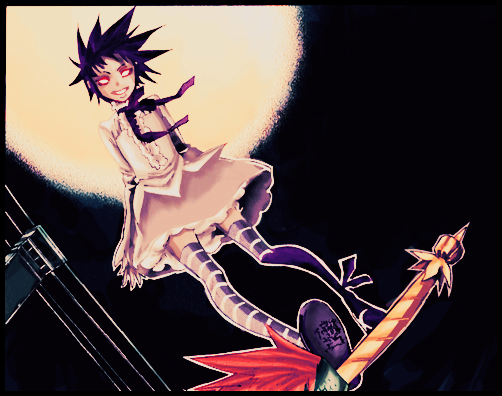 + PLAYER INFO +
Player Name: Chelle
Personal LJ:
lejlkwiet
Email: heart.of.ashes [at] gmail [dot] com
Messenger: HeartFireAshes [AIM]
4th walling: No, thank you
+ CHARACTER PROFILE +
Name: Road Kamelot
Series: D.Gray-man
Age: Looks 13, is over 35 in her current body, over 7000 memory-wise.
Inherited Memory: Dreams
Interests: Teasing people, playing
Likes: Candy, Allen, The Millenium Earl
Dislikes: Humans
History:Coming Soon
Personality:Coming Soon
Abilities:Coming Soon
+ IN THE CITY +
Entered the City on the 17th September 2008

Relationships:

Canon:
♥♥♥♥♥
The Millennium Earl
♥♥♥♥♥
Tyki Mikk
♥♥♥♥
Lulu Bell


In game : (In progress)
♥♥♥
Grell Sutcliff
♥X
Justin Pendleton
♥♥
Rip Van Winkle
+ FAMILY +

Disclaimer: This is a roleplaying journal for
polychromatic and
anteceded. Road Kamelot and D.Gray-man are both © Katsura Hoshino. No profit is being made through this journal.

Layout profile image thanks to Ruxi @ Insovereign

Journal banner image thanks to
saave, edited by me, please don't take

Layout profile code thanks to ReversesCollide


Connect
allen walker
,
avoiding homework
,
candles
,
candy
, cyril camelot,
destroying innocence
,
dreams
, duke millenium,
family
,
illusions
,
jasdevi
, killing exorcists,
lero
, lulu bell,
noah
,
noah's ark
, skin boric,
tyki mikk

People
[View Entries]

Communities
[View entries]

Feeds
[View Entries]

Subscriptions (0)

Linking
To link to this user, copy this code:
On Dreamwidth:
Elsewhere: